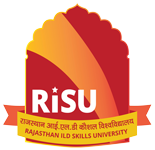 About RISU

RISU has been incorporated as Rajasthan Government State University vide Act No. 6 of 2017. Dr. Lalit K. Panwar, former IAS and Ex-Secretary, Govt. of India has been appointed as first Vice Chancellor of RISU. Twenty-two skill related institutions have been affiliated so far and more than 1000 students are pursuing skill based studies in these institutions. The affiliated institutions have commenced first session from July, 2018.
RISU is an effective institutional intervention to implement National Skills Qualification Framework in the State. Being a Government University, RISU is the affiliating body for a large number of institutions operating in skill and vocational training.
Vision:
Promoting Excellence in Skill Education in an integrated and holistic manner.
Mission:
To emerge as one amongst the foremost institutions of quality in Skill Education recognized at National and International arena.
Objectives:
To recognize, in such manner and in accordance with such parameters, institutions of skill education and training and affiliate such institutions.
To develop credit framework in accordance with the National Occupational Standards;
To develop Qualification Packs and Occupational Standards for identified job roles in consultation with the Sector Skill Councils or National Skills Qualification Committee and industry.
To align qualifications, course programs to National Skills Qualification Framework.
To identify and collaborate with industries for purposes of practical training of students in skills and to define norms for recognition of competency.
To collaborate and co-operate with institutions to conceptualize, innovate, design, and evaluate educational and research programmes in skill education and training purposes.
To institute courses of study and hold examinations for and confer degrees, diplomas, certificates and other academic distinctions on persons who have pursued a prescribed course of study in the University including part courses carried out in any other University or recognized institutes for the purpose.
To admit colleges and institutes, not maintained by the University, to the privileges of the University, and to withdraw all or any of such privileges.
To establish and maintain colleges, schools, centers, divisions, departments, institutes relating to skill education and training.